Export Toiletries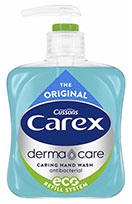 Whether you are looking for hair care, bath & shower, skin or cosmetic products, the EFG trade website has a sizeable range of Export Toiletries available online.
Bringing the cash and carry experience online to our trade customers, the EFG website features up to 50,000 regular items, including plenty of toiletry export products. We ship Worldwide, so if you are not based in the UK, you can still benefit from our wholesale prices! You can read more about our export service by clicking here.
Items within our essential export toiletries range are regular, recurrent purchases for most consumers that can present your business with a great chance to boost some extra revenue.

Within our range we have everyday toiletries such as Deodorant, Toothpaste, Soap, Shampoo, Hand Wash and Baby care products, alongside beauty products such cosmetics, perfumes, creams and lotions and many more items from top toiletry brands.
In order to access our trade prices and great selection of toiletry exports, you can sign up to our website on our registration page, where you can apply for a trade account. Once we have approved this, we will confirm your registration by email, allowing you to log in to the EFG website to access our entire product range, access trade prices and place your order. From there on in, we will liaise with you directly about payment and shipping arrangements.
With a great number of Toiletries ready to be exported, sign up to the EFG website to access our wide range of goods, and to take advantage of our trade prices.
If you would like to discuss our export service, or any of your requirements, call our export representative on +44 (0) 208 344 6326 today or email daniel@efghousewares.co.uk to find out more information.